Chromecast with Google TV - Review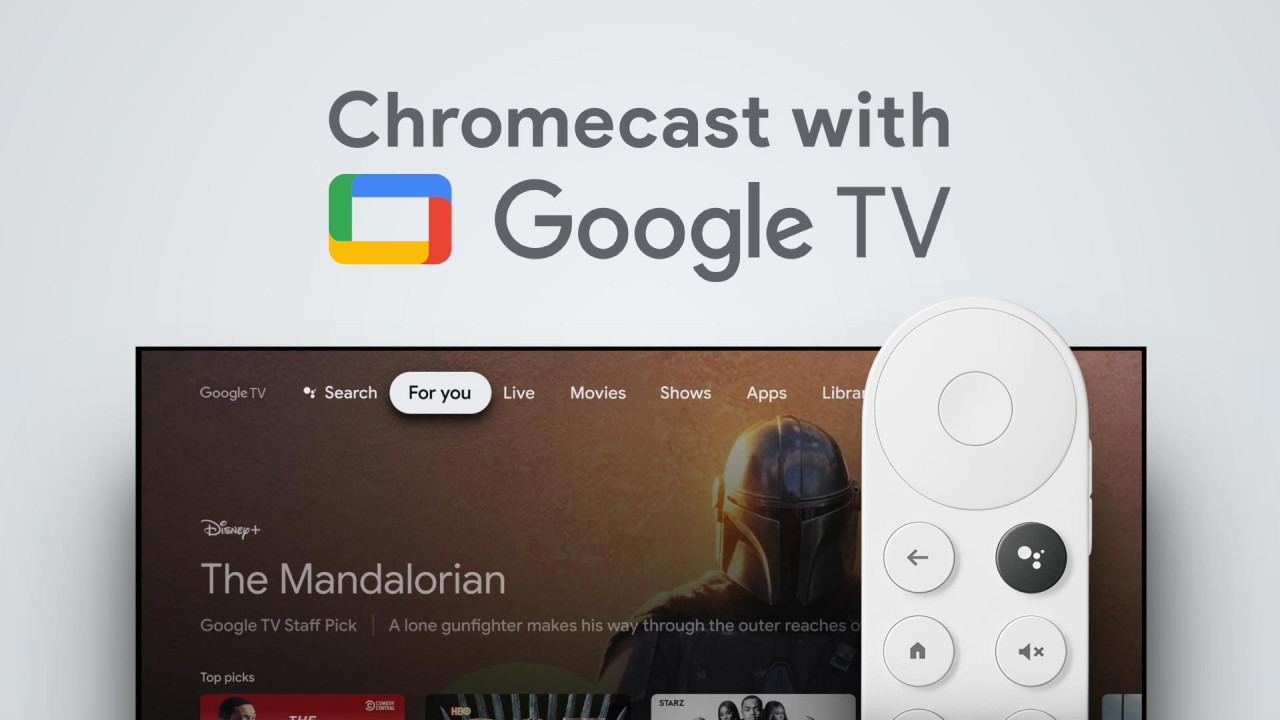 A few months ago Google released their new Chromecast, which comes with the brand new Google TV branded flavor of Android TV. Remote included.
When I bought my Samsung TV a few months prior, the device codenamed Sabrina was already pretty much confirmed and I wanted to wait and see how it would stack up against the competition.
I had planned to replace the relatively fast (but otherwise lacking) Tizen OS with an Android TV device right from the start. Initially I even thought about getting a TV which actually runs Android TV itself, but given the horrendous support that most Android TVs receive, I ultimately decided against it. I didn't want a slow and outdated Android running between my shiny new Android box and the display. You can say what you want about Samsung TVs: Tizen OS cold-boots faster than most Android TVs take to wake up from stand-by!
A look at the competition.
When deciding on what to buy, you should always look at the competition. The competition I'm talking about would be the following:
Xiaomi Mi Box
nVidia SHIELD TV
Amazon Fire TV
All of these devices have 4K variants and run their own customized version of Android (TV). Roku isn't available here in Germany and I'm not invested enough into the Apple ecosystem for an Apple TV, so they weren't even considered.
Obviously there are way more options available, I just looked at the most popular ones I knew about from the internet and friends. A while ago even Nokia announced an Android TV box of their own, which wasn't available back then.
Why Chromecast?
I decided to go with the Chromecast for a number of reasons:
The biggest reason for me was the fact that this device is the set top box equivalent of a Pixel smartphone: It's hardware and software by Google, with all the latest smart features. And the new Google TV launcher is gorgeous and looked promising.
Add the fact that all the other devices had some big negatives:
I hate the Fire TV OS. It looks and feels slow and outdated to me and while it's not as bad as it used to be, it still feels like a giant wall of Amazon ads. And there's no Chromecast built-in, that's a no-go in and of itself. We use that ALL the time.
While the nVidia Shield is way more powerful, it's also way more expensive. The universally praised upscaling feature is nice, but most TVs (mine included) already do a decent job at it and I wouldn't be consuming much low-res content anyway. And the gaming related stuff it offers is not important to me.
The Mi Box is still running Android 8.1. End of story.
So the Chromecast with Google TV seemed like a good fit for my personal needs and I went for it.
Setting it up.
Before plugging in the Chromecast I disabled everything I could in Tizen OS, including networking. I took the smart out of the TV, so to speak. I then plugged the Chromecast in and went on to set it up using the Google Home app on my smartphone.
It was fairly straight forward and when I got to the part where you set up the remote, I was amazed at how great and seamless it let's you control not only your Chromecast, but also your soundbar or the TV speakers and even the input switcher (which you have to configure manually after the initial setup, for some reason) from a single remote. It can use HDMI-CEC and/or IR so it should work with any device.
And because the Chromecast is technically always on, you can even cast content from your phone while the TV is on stand-by and it will automatically turn on and play whatever you told it to in a matter of seconds.
I don't watch terrestrial TV ever, which, aside from accessing the settings, would be the only reason to keep the original remote around. It's now tucked away in some drawer and will only see the light of day if I have to change some settings on the TV itself.
But, rest assured, you can also control the Chromecast with your TV's remote (with HDMI-CEC enabled). You will miss the home button, though.
Google TV
This is the most important thing and I have to say: Google delivered!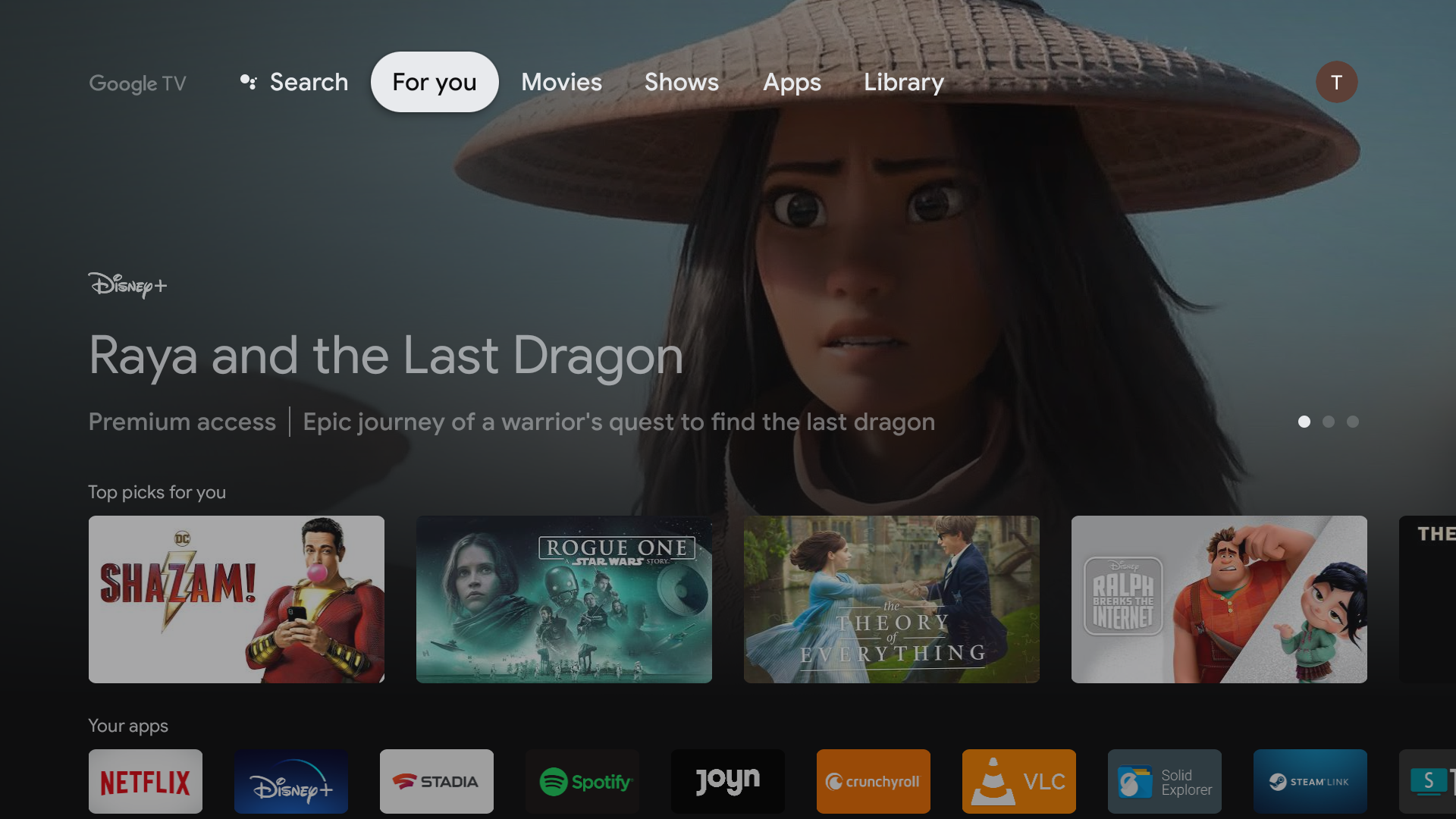 It's not exactly the fastest device out there, so you will see some loading screens every once in a while, but it really is a joy to use and look at.
The new Google TV UI is just gorgeous and while the top row does feel a teensy bit like ads, since it also lists movies and TV shows from services you are not currently subscribed to, the recommendations are really excellent. The rest of the UI will only show things from the services you are subscribed to.
And if you're like me and use family sharing on your Netflix or Disney+ accounts you will be delighted to hear that Google TV supports that perfectly! You will only see recommendations based on the things you personally watch and the "Continue watching" shortcuts will only list shows and movies from your profiles as well.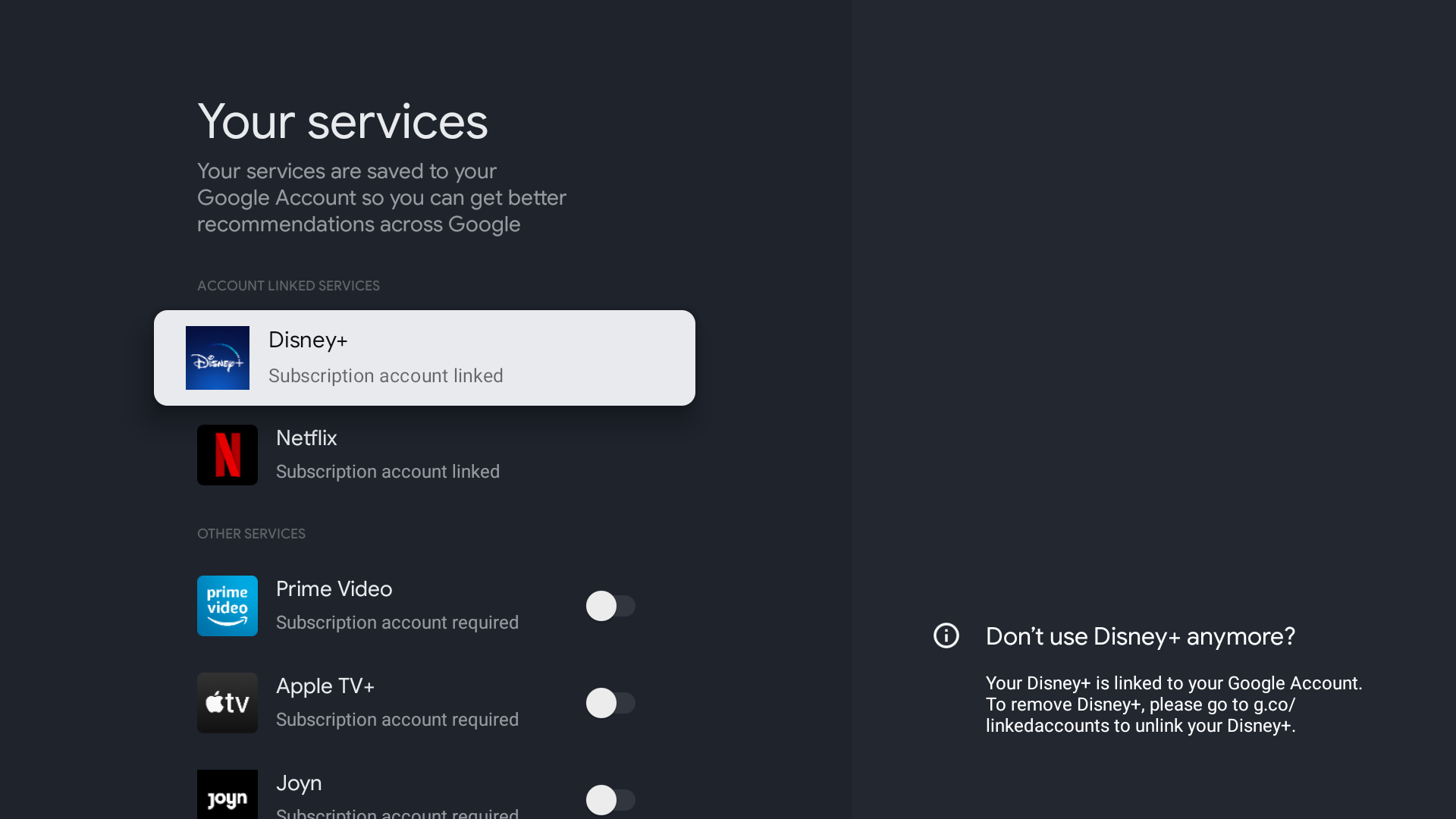 One added bonus: Google offers its own watchlist and like/dislike feature for you to use and it will be synced across all devices. If you're out with friends and someone mentions a movie, you can find it on Google and add it to your watchlist right then and there and it will automatically show up on your Google TV with all the places where you can watch it. You can also like or dislike movies and shows either on Google search or on your Google TV, which will improve the recommendations in the long run. That way you can have a single watchlist for all your services and a single (superior?) algorithm for your recommendations!
Apps, Services and Games
Well it's an Android TV device so you will probably find the app you need. There's Netflix, Disney+, Amazon Prime Video, Joyn, Hulu and even Crunchyroll and Apple TV and much, much more.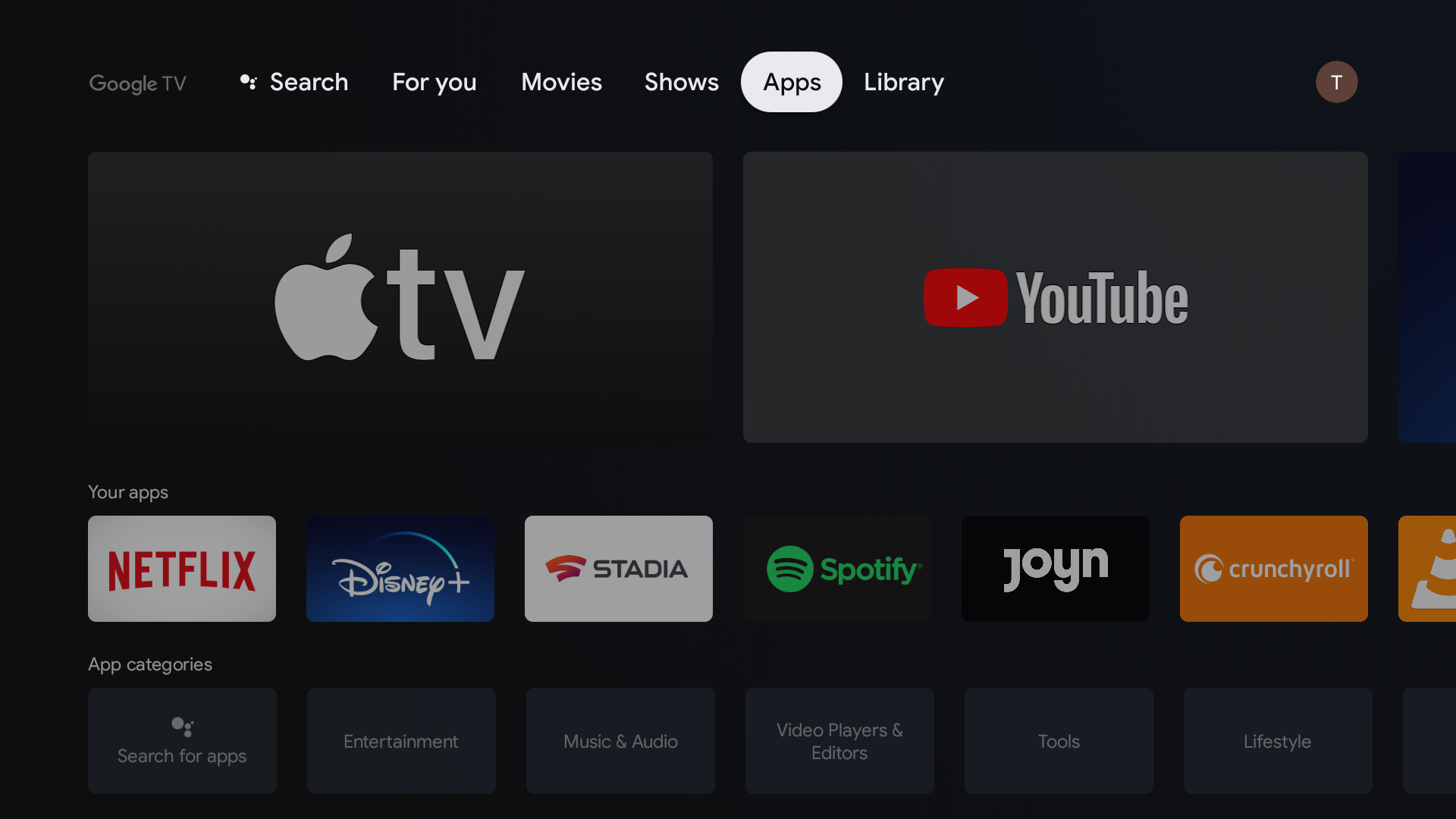 There are also a lot of games available, some of which you can even play with the remote, but most of them will require a gamepad. There are also a ton of emulators to choose from, which will allow you to play classics from the Sony PlayStation 1, PlayStation Portable, Nintendo 64, Super Nintendo and much, much more without any issue.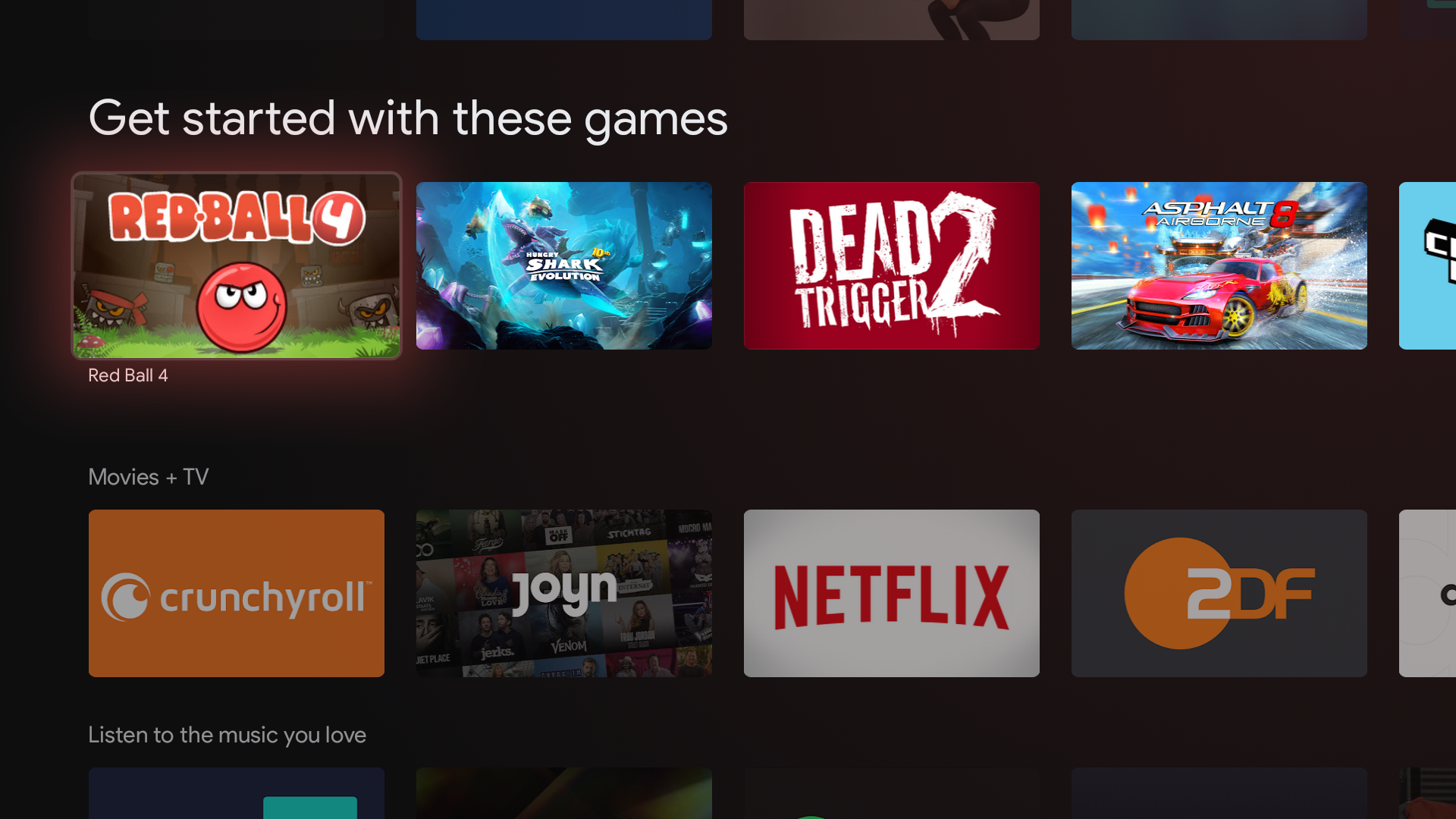 I've also been playing a lot on Stadia using the device, but unfortunately the app is not fully optimized for Android TV yet. Once you get through the initial setup and launch a game it will run perfectly, but the UI is just a slow and buggy mess. It's not a big issue and I've played almost 200 hours at 4K/60, but I really hope that it will be improved soon. HDR is supported as well.
Framerate, resolution, HDR and stuff
The Chromecast with Google TV supports resolutions up to 4K with HDR10, HDR10+ and DolbyVision. It will always output at a set framerate and is not capable of automatically matching the content. Not a big deal for most people, but it may be something to keep in mind if you are sensitive to judder and can't rely on judder removal on your TV to fix that.
The Chromecast is also capable of telling your TV to switch to game mode on compatible apps if your TV supports it.
Note: Judder removal is not the same as frame interpolation and does not introduce the soap opera effect! You can learn more on rtings.com.
The Chromecast by default outputs everything in HDR and the first thing you should do is to enable "match content" in the display settings. It makes all SDR content and even the UI itself look horrendous on my TV.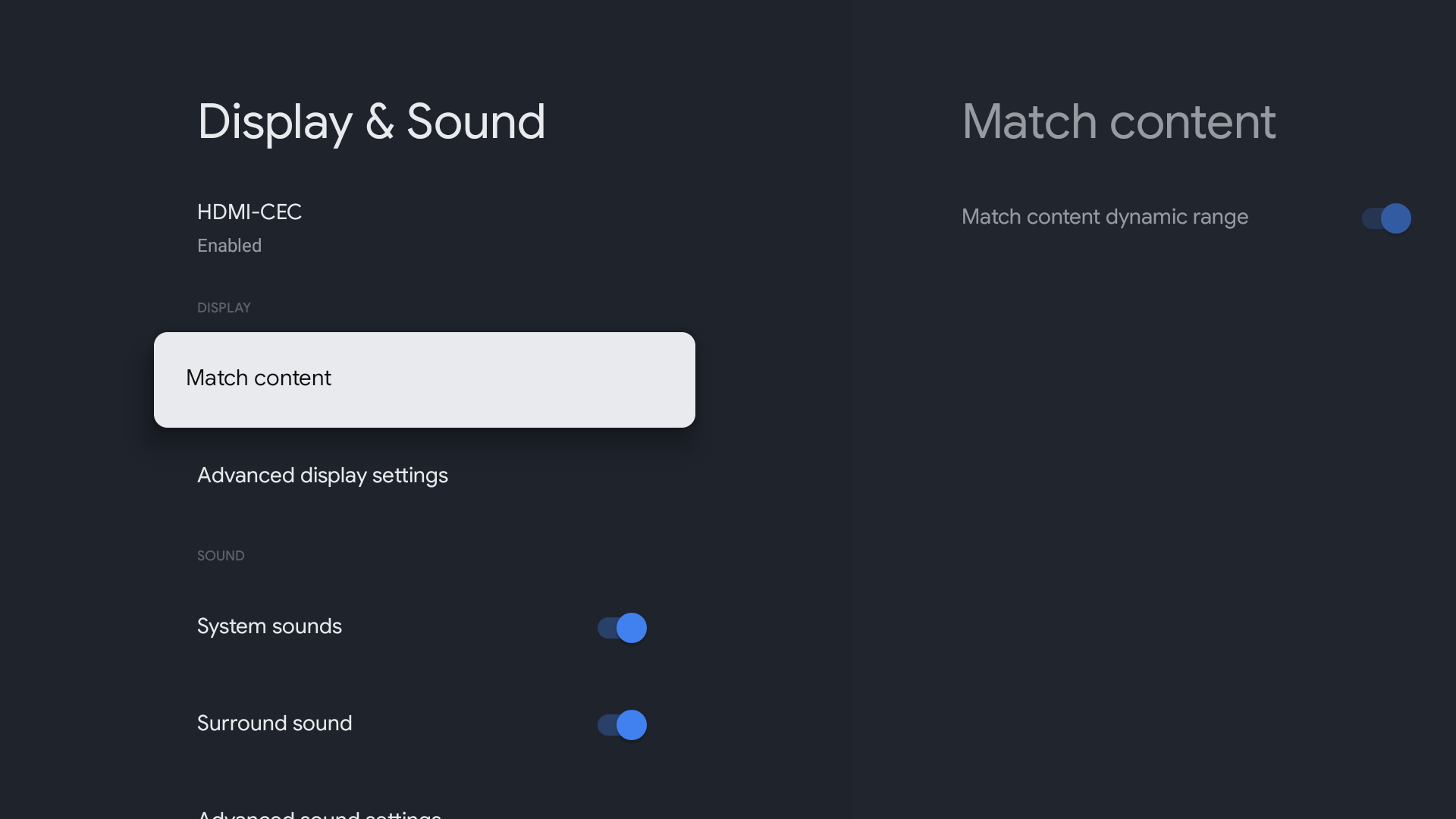 One other thing to note is that the Chromecast with Google TV does not support the AV1 codec and will not be able to get it with patches, as it lacks the hardware capabilities. This is weird, as Google seems to make it mandatory for all upcoming Android TVs while their own flagship device doesn't even support it. This is not a big deal but services like Stadia, GeForce Now and xCloud could benefit greatly from AV1 in the future and would have to fall back to VP9 on the Chromecast with Google TV.
Final verdict
This is by far the cleanest setup I've ever had on my TV.
The interface and the device + remote are both sleek and modern, and using it doesn't feel like your bombarded with ads, which is a nice change of pace on devices like these. Your streaming services integrate seamlessly, it supports all the latest HDR standards and the plethora of apps and games available is just amazing.
I like it and I'm sure you will, too.
The only thing that I would consider to be a better device overall (objectively) would be the nVidia SHIELD TV but that is two to three times as expensive and I don't need the extra features or performance.